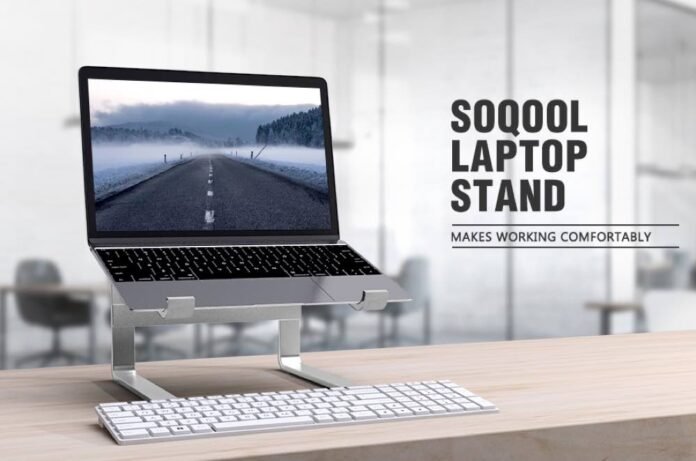 The SOQOOL Laptop Riser is on sale right now at Amazon for $16.14. Without applying any special discount code at the checkout, you save directly 82 percent on the original price.
The sleek compact laptop stand raises your laptop 6 inches to eye level, reducing awkward postures and relieving neck and shoulder strain. The aluminum laptop stand relieves wrist strain by elevating it at an ergonomic position for long-term laptop use. We strongly advise using this stand in conjunction with an external Bluetooth keyboard and mouse.
Asenlin 40L Travel MacBook Backpack Is On Sale For $40 (20% OFF)
The design of a laptop stand for a desk is straightforward. Its rubber inlets keep it from sliding around. The laptop stands for the desk tilts at just the right degree to safeguard your wrist and keep you in a balanced stance. The high-quality aluminum protecting hook and rubber anti-skid pad ensure easy typing without the laptop slipping and "rocking" back and forth.
The laptop stands for the desk was built of high-quality aluminum alloy, and the aluminum laptop stand was intended for optimal cooling to keep your laptop from overheating while in use. The excellent ventilation design allows for more airflow to cool your laptop and protect it from temperature-related accidents. An automatic improvement in the life of your laptop's battery!
This 9 in 1 Triple Display Docking Station Is Great Pick For Your MacBook At $33
The laptop self is made up of two pairs of screws and threaded holes on the vented laptop stand's two shoulders. With a hexagonal wrench, you can effortlessly attach the stand's two aluminum alloy shoulders.
Note: "We may receive a commission when you purchase products mentioned in this website."