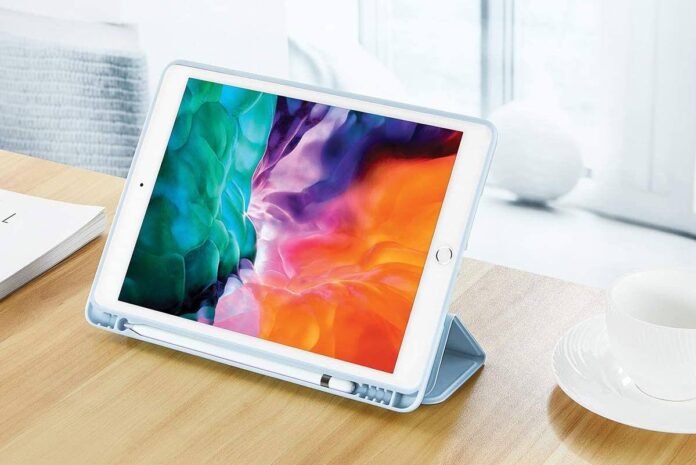 The SIWENGDE Soft TPU Smart Trifold Stand Case is being sold today at Amazon for $10.19. Without applying any special discount code at the checkout, you save directly 15 percent on the original price.
SIWENGDE iPad protective case is designed for the iPad 9/8/7th generation(Model: A2270/A2428/A2429/A2430/A2197/A2198/A2200). All controls and functionality are easily accessible (Cameras, Speaker, Ports, and Buttons). The inside layer has a honeycomb grid design air cushion that can help to extend the life of your iPad. iPad Pencil holder built-in.
iPhone & iPad Compatible WiFi Mini Projector Is On Sale For $100 (Save 17%)
This protective case is constructed of high-quality TPU material, has a slim and lightweight design, and is well-crafted, and feels great. Protects the iPad 9th/8th/7th generation 10.2 inch iPad tablet from scratches and bumps, as well as provides more comprehensive protection.
A magnetic stripe is incorporated into the front cover of the protective case. The sophisticated magnetic sensor will automatically wake up or put the tablet to sleep when you open or close the iPad 9th/8th/7th gen case cover. This can help to save battery life and extend the tablet's standby time.
Don't Miss The Logitech Slim Folio Pro For Your iPad Pro 12.9-inch At 24 Percent OFF!
The tablet can be held in a firm and secure position thanks to the strong magnetic connection. The 30° angle keyboard mode is ideal for conversing and working on a regular basis. The 65° video mode is ideal for reading and watching movies. You can free your hands or engage in other forms of enjoyment.
Note: "We may receive a commission when you purchase products mentioned in this website."