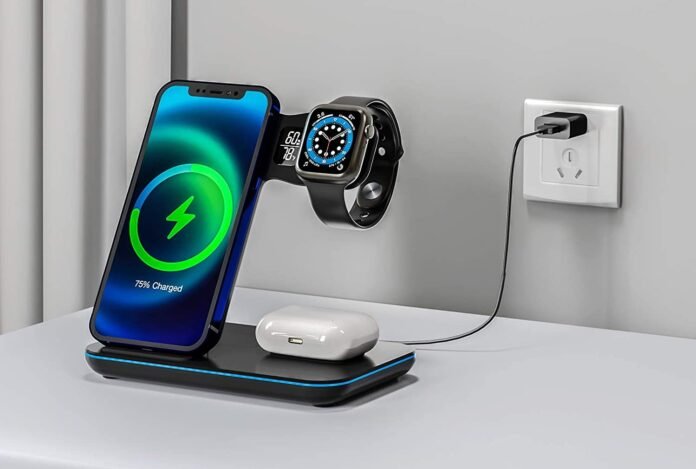 Without applying any special discount code at the checkout, you can get the RELAXYO Wireless Charging Station for $21.64. Today's offer allows you to save directly 18 percent on the original price and clip the on-page coupon to score an extra $3 discount.
The Relaxyo Wireless Charger is compatible with Qi-enabled iOS and Android phones, Apple Watch, and AirPods that support wireless charging. There is a second USB connection on the rear of the charger that can charge another device via a USB cable. It is possible to charge up to three gadgets at the same time.
Get Your iPhone The ORIbox Car Phone Mount For $10 (24% OFF)
On the wireless charging station, a temperature and humidity display has been carefully designed. A lack of humidity in the air can cause the skin to become dry and cracked. You can modify the temperature and humidity as needed to create the most comfortable environment. Purchasing one Relaxyo wireless charger is the same as purchasing one 5 in 1 wireless charger, one electronic thermometer, and one hygrometer. Very useful and convenient for everyday use.
Because the watch portion of this charger has a hollow construction, you must use the original Apple Watch charger with it. Making charging faster and more stable, as well as protecting your iWatch. Most charger watch parts on the market are prone to damage. When the watch charger stops working, you can replace only the watch portion rather than the full 5-in-1 charger. It is more convenient and will help you save money.
Pickup This Amazon's Highly Rated Stainless Steel Apple Watch Band For $14 ($3 OFF)
You can even charge another phone in the earbud charging area. In other words, you can charge two phones simultaneously. This charger is ideal for sharing with coworkers and family members. Please keep in mind that only the phone charging station offers fast charging of mobile phones. and the earbuds' charging location only enables fast charging of the earphones and conventional speed charging of the mobile phone.
Note: "We may receive a commission when you purchase products mentioned in this website."