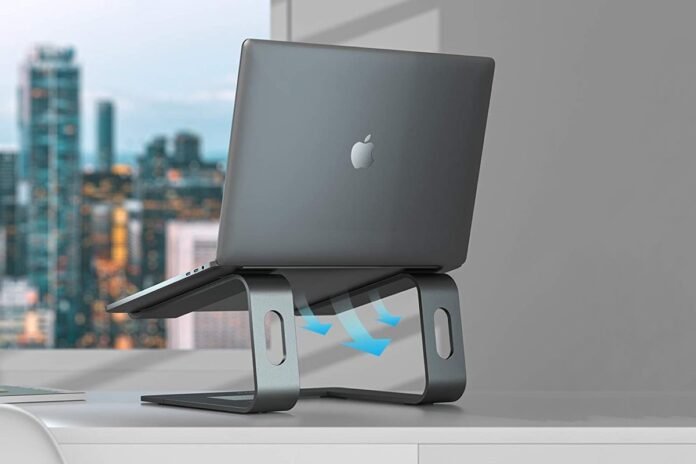 The Nulaxy C3 Aluminum Laptop Stand is now available on Amazon for $18.69. The price has dropped from $24 per unit, which fetched over $30 for most of last year, to $22 per unit, which is now at an all-time low. Also great for Mac users of all kinds, DJs, Chromebook owners, and more, it has Space Gray-like colorway and features that will be featured in our gift guides in 2020. With clean minimal design, made from "premium 5mm aluminum alloy" and 33-pound weight capacity, and support for all laptops from 10- to 16-inches, the lightweight machine is highly functional. It adds an extra 7 inches of the desktop to your device, helping to prevent overheating while also providing a more comfortable overall experience. For easy storage and transportation, this one collapses into three pieces. Has received 4 stars or more over 18,000 customer reviews on Amazon.
MacBook: Snag This Highly Rated 14-15.6 Inch Laptop Sleeve For $20
Product Highlights:
With the open-back design, it offers the best ventilation and airflow needed to cool either your notebook or gaming laptop and preventing it from Overheating. And the rubber pads and aluminum alloy acts as thermal pads to take the heat of too.
Nulaxy C3 Laptop Stand is compatible with all laptops from 10-16 inches such as MacBook 12/ 13 MacBook Air 13 Macbook Pro 13/ 15 Google Pixelbook Dell XPS HP ASUS Lenovo ThinkPad Acer Chromebook and other notebook PC computer sizes between in 10-16 inches.
The Laptop stand works as a riser to elevate the laptop screen to 7'' and brings it to a perfect eye level to fix your posture. The ergonomic riser will help reduce neck and back pain, reduce eye strain creating extra space giving you the option to work without any clutter on your desk. Note: We suggest you to use an external Bluetooth keyboard and mouse because our testing showed that it might be a little wobbly while you type on the laptop keyboard.
Made with premium 5mm aluminum alloy this laptop stand is a study and is able to support a laptop weighing up to 22 lbs (10kg) and with the large rubber pads on the surface it will hold it steady too. We also have pads on the bottom to prevent it from sliding and protecting your laptop from any unwanted harm.
This laptop stand has premium CNC cut aluminum alloy material that will make sure it's easy to reassemble and fits perfectly without any issues. With our easy to disassemble design, you can easily detach it into 3 parts and store it to keep your desktop clean.
Note: "We may receive a commission when you purchase products mentioned in this website."