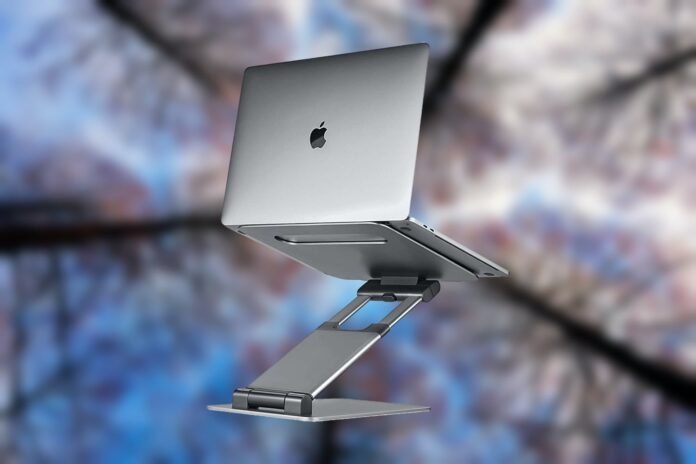 The LIFELONG Ergonomic Laptop Stand is being sold today at Amazon for $59.49. Normally selling for $89.95, today's offer allows you to save 34 percent on the original price without applying any special discount code.
If you're having back problems, you've come to the correct spot. The ergonomic laptop stand is compatible with all MacBook and laptop models ranging from 10-inch tablets to 17-inch laptops, including the MacBook Air, Pro, 10, 13, 15, 15.6, and 17-inch laptops. It can be used whether seated or standing. Its stylish shape also helps keep your laptop cool, preventing it from overheating.
Upgrade Your MacBook Webcam With This 1080P AutoFocus Full HD Webcam For $25
The Laptop stand was created to be an incredibly flexible computer stand that can be used for zoom conference meetings, viewing films, gaming, or even cooking as a cookbook stand. It's a truly remarkable gifted laptop stand. The computer stand was created specifically to eliminate the need for you to utilize a standing desk in addition to your ordinary desk, which will clog up your workspace.
The Computer stand can be used as a portable standing desk and can be adjusted accordingly. The top base of the stand rises up to 20 inches from the floor and the arm extends up to 13 inches. Additionally, the arm has twenty different arm lengths that can be adjusted to meet your needs.
This 9 in 1 Triple Display Docking Station Is Must Have For Your MacBook At $33
With the portable stand, you can use it whenever you want and easily pack it away when you sit. The portable laptop stand can be carried in your bag from home to the office, resolving all of your posture difficulties. The laptop stand is a must-have item for men and women who work from home.
Note: "We may receive a commission when you purchase products mentioned in this website."