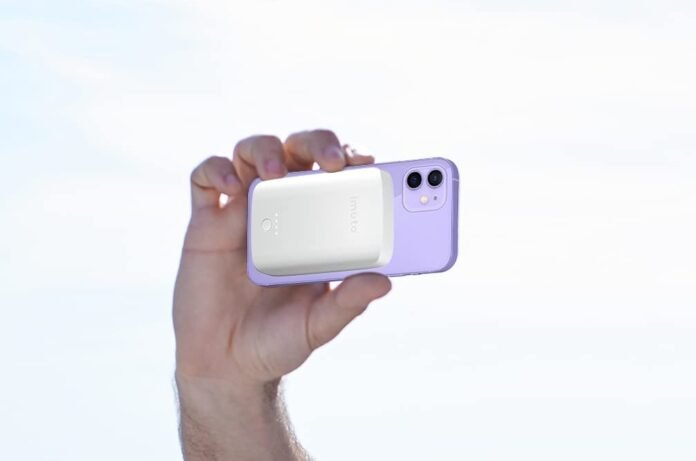 The 5K Magnetic Wireless Power Bank from imuto is now available for $29.99 on Amazon. Normally $40, you're looking at a new all-time low owing to the 25% discount and one of the lowest prices for a MagSafe power bank on the market. With built-in MagSafe magnets, this option comes with a 5,000mAh internal battery in tiny packaging that can magnetically clasp to the back of your iPhone 12 series handset. This device, like others on the market, can only deliver 7.5W of electricity and is recharged via a USB-C connector.
Pickup This Popular Lightweight Mini Tripod For Your iPhone At $13 (15% OFF)
Product Highlights:
This magnetic phone charger has a neodymium magnet suction from rare earth super strong, which can hold your device firmly. The magnetic charger makes it easy to charge wirelessly. So you can use the lightning port for other things, it stays firmly attached to the phone.
An Exclusive intelligent charging technology provides an optimal output power of 5W/7.5W/10W (Max), automatically recognizes the charging equipment, provides a variety of optimized current output, faster and safer charging. This portable iPhone charger can be used for iPhone 12 Pro/12 Pro Max/12 Mini Fast Charging.
The imuto wireless power bank also supports fast USB C charging and standard 5W/7.5W/10W wireless charging at the same time. Thanks to the detection distance of 8 mm, mobile phones can be easily charged even with a protective case.
It extends the life of our portable phone charger power bank for the whole day. We use a high-quality Li-polymer battery, intelligently identify foreign metal objects such as coins, by only matching your devices with wireless charging.
Note: "We may receive a commission when you purchase products mentioned in this website."