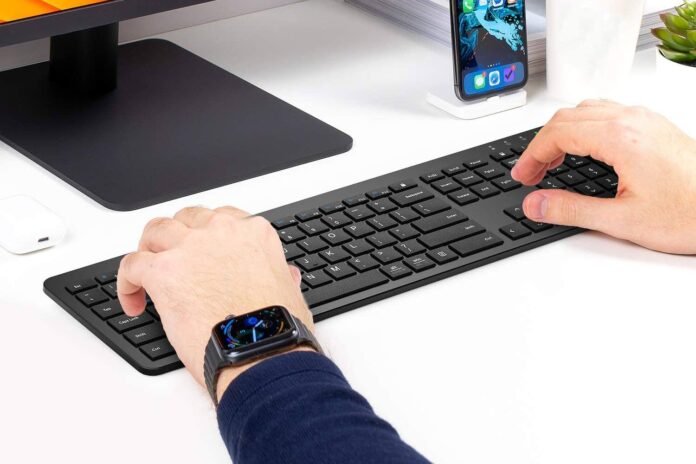 The iClever GK08 Wireless Keyboard and Mouse is being sold today at Amazon for just $28.04. Without applying any special discount code at the checkout, you save directly 15 percent on the original price.
With this wireless keyboard and mouse, you'll have the range you need as well as excellent communication. It works on Windows, Mac OS, and Chrome OS. Simply insert one tiny, simple USB receiver into your computer, and the keyboard and mouse are instantly connected, no need for two separate receivers! With a stable connection and zero lag time, you can use the mouse up to 33 feet away.
Get Your MacBook This Popular 4K HD Webcam with Microphone For $36 ($24 OFF)
Put an end to battery changes with this wireless keyboard, which is powered by a lithium-ion battery and provides up to 90 hours of continuous usage on a single charge. Both the mouse and keyboard will go into standby mode when not in use to conserve energy. To reawaken them, simply click the mouse or press any key on the wireless keyboard.
Individuals who value precise typing will feel right at home with this wireless keyboard's highly responsive scissor switches. It types silently, and the buttons' enhanced stability reduces tip noise and improves accuracy. On this wireless keyboard and mouse, you can feel every keystroke, but you don't have to hear them! The bottom of the keyboard features anti-slide pads to ensure that it stays in place while typing swiftly.
Never again will your portable wireless keyboard die unexpectedly! When the battery is low, LED indications on the keyboard alert you to the need to recharge. Additionally, you can conveniently store the wireless USB receiver when not in use in the specific slot of either the mouse or the keyboard to avoid losing it. Maintain a consistent DPI setting on your mouse for the smoothest, most accurate tracking and scrolling.
Note: "We may receive a commission when you purchase products mentioned in this website."