Apple has unveiled iOS 17, a significant update that enhances the communication experience across Phone, FaceTime, and Messages. It introduces various improvements, including simplified sharing through AirDrop and intelligent input enhancements that boost typing speed and accuracy. iOS 17 also brings exciting new features, such as Journal, an app designed to facilitate gratitude practices, and StandBy, a convenient way to view quick and relevant information while the iPhone is charging.
Craig Federighi, Apple's senior vice president of Software Engineering, emphasized the focus on personalization and user-friendliness in iOS 17. The updates to Phone, FaceTime, and Messages aim to enhance everyday communication needs. Additionally, AirDrop has been reimagined with fresh sharing options, autocorrect has been further refined, and the introduction of Journal and StandBy offers users novel experiences. Apple is enthusiastic for users to explore and enjoy the features of iOS 17.
What's new?
CONTACT POSTERS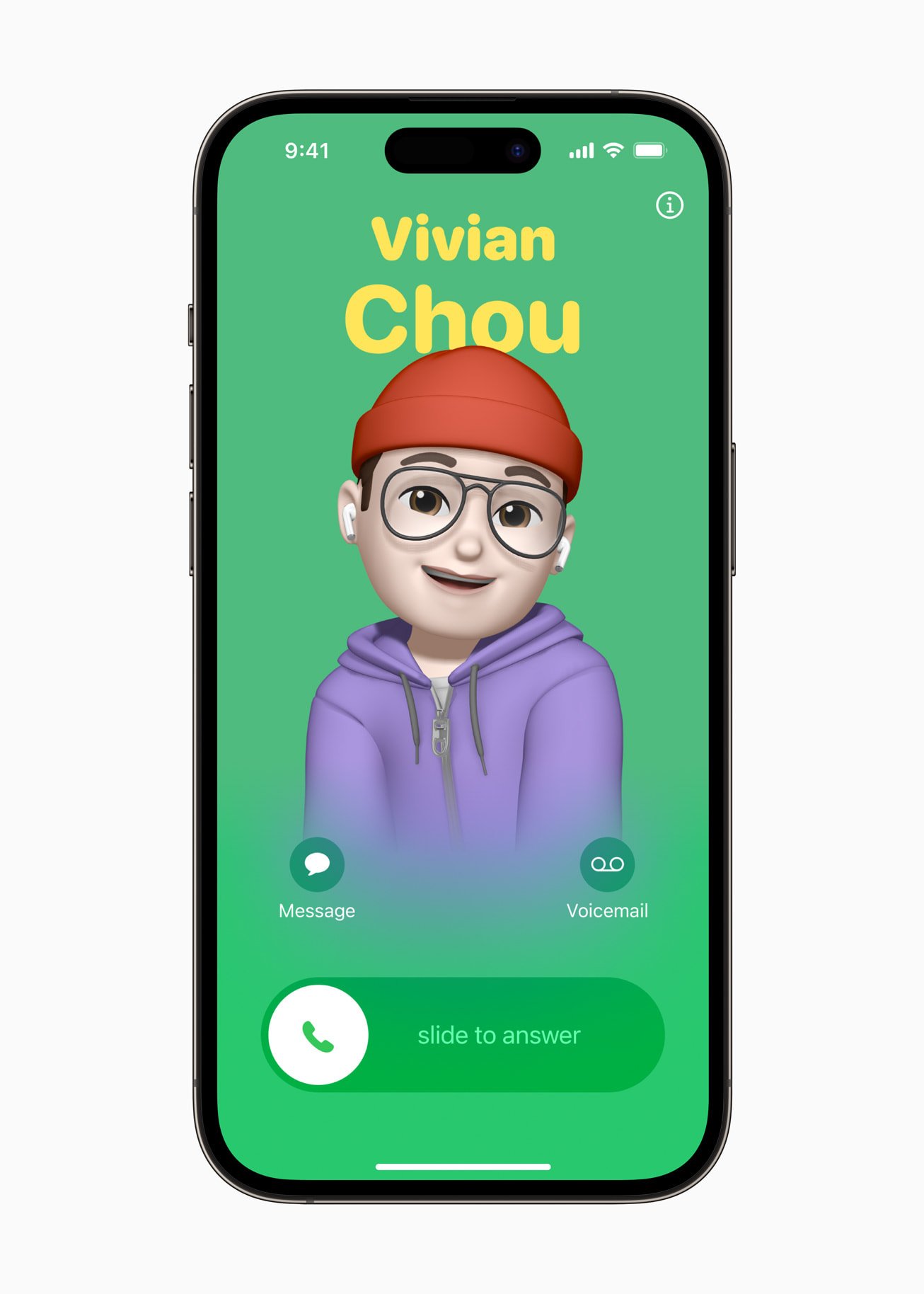 In iOS 17, the Phone app, which plays a central role in the iPhone experience, receives a substantial update. One of the exciting new features is the introduction of personalized Contact Posters, offering users a fresh and expressive way to represent themselves. With Contact Posters, users can now customize their appearance, giving incoming calls a completely unique and personalized look.
Users have the freedom to choose from a variety of options to make their Contact Posters visually appealing. They can select stunning treatments for their photos or Memoji, incorporating eye-catching typography and font colors. This customization allows users to showcase their individuality and personal style in a creative and engaging manner.
Moreover, Apple has extended the availability of Contact Posters beyond the Phone app itself. Third-party calling apps will also have the option to utilize Contact Posters, ensuring a consistent and personalized calling experience across various communication platforms.
With the introduction of Contact Posters, iOS 17 offers users an exciting opportunity to express themselves in new and vibrant ways, revolutionizing the visual aspect of incoming calls and enhancing the overall iPhone experience.
LIVE VOICEMAIL
iOS 17 introduces an innovative feature called Live Voicemail, providing users with enhanced capabilities and convenience when it comes to managing voicemail messages. With Live Voicemail, users can now witness real-time transcriptions as callers leave voicemail messages, offering a quick glimpse into the content of the message.
What sets Live Voicemail apart is the opportunity for users to act in real-time. As callers leave their message, users have the option to pick up the call, interrupting the voicemail process and initiating a live conversation. This feature allows for more immediate and interactive communication, saving time and enabling timely responses.
To further improve the calling experience, iOS 17 employs carrier-based spam identification. Calls identified as spam by carriers will not appear as Live Voicemail. Instead, they will be instantly declined, ensuring that users are not bothered by unwanted calls.
Privacy is a priority in iOS 17, and Live Voicemail transcription reflects that commitment. The Neural Engine, a powerful component of Apple's devices, handles the transcription process directly on the user's device. This on-device processing ensures that Live Voicemail transcriptions remain entirely private, giving users peace of mind about the security and confidentiality of their voicemail messages.
With Live Voicemail, iOS 17 empowers users with real-time transcriptions and the ability to interact during voicemail messages, streamlining communication and providing an additional layer of control over incoming calls.
FaceTime Adds Audio and Video Messages, Reactions, and Extends to Apple TV
iOS 17 brings a range of exciting enhancements to FaceTime, offering users more ways to connect and communicate. Here are the key features:
Audio and Video Messages: FaceTime now supports audio and video messages, allowing users to leave personalized messages for contacts who are unavailable. Users can record and send messages that can be enjoyed later, making it convenient to share thoughts, updates, or fun moments even when a live FaceTime call isn't possible.
Expressive Reactions: FaceTime calls become more engaging with the addition of Reactions. Users can now choose from a variety of expressive reactions such as hearts, balloons, fireworks, laser beams, and more. These effects can be activated easily through simple gestures, adding an extra level of fun and creativity to FaceTime conversations. Third-party video calling apps can also integrate these reactions into their platforms, expanding the expressive possibilities.
FaceTime on Apple TV: A significant update to Apple TV 4K allows FaceTime to extend to the biggest screen in the home. With Continuity Camera integration, users can initiate video calls directly from Apple TV or seamlessly transfer ongoing calls from their iPhone to the television. The Center Stage feature ensures perfect framing, even as users move around the room, providing a dynamic and immersive video calling experience on the big screen.
Messages receives a refreshed design and significant updates, bringing a renewed and enhanced experience to iOS 17 users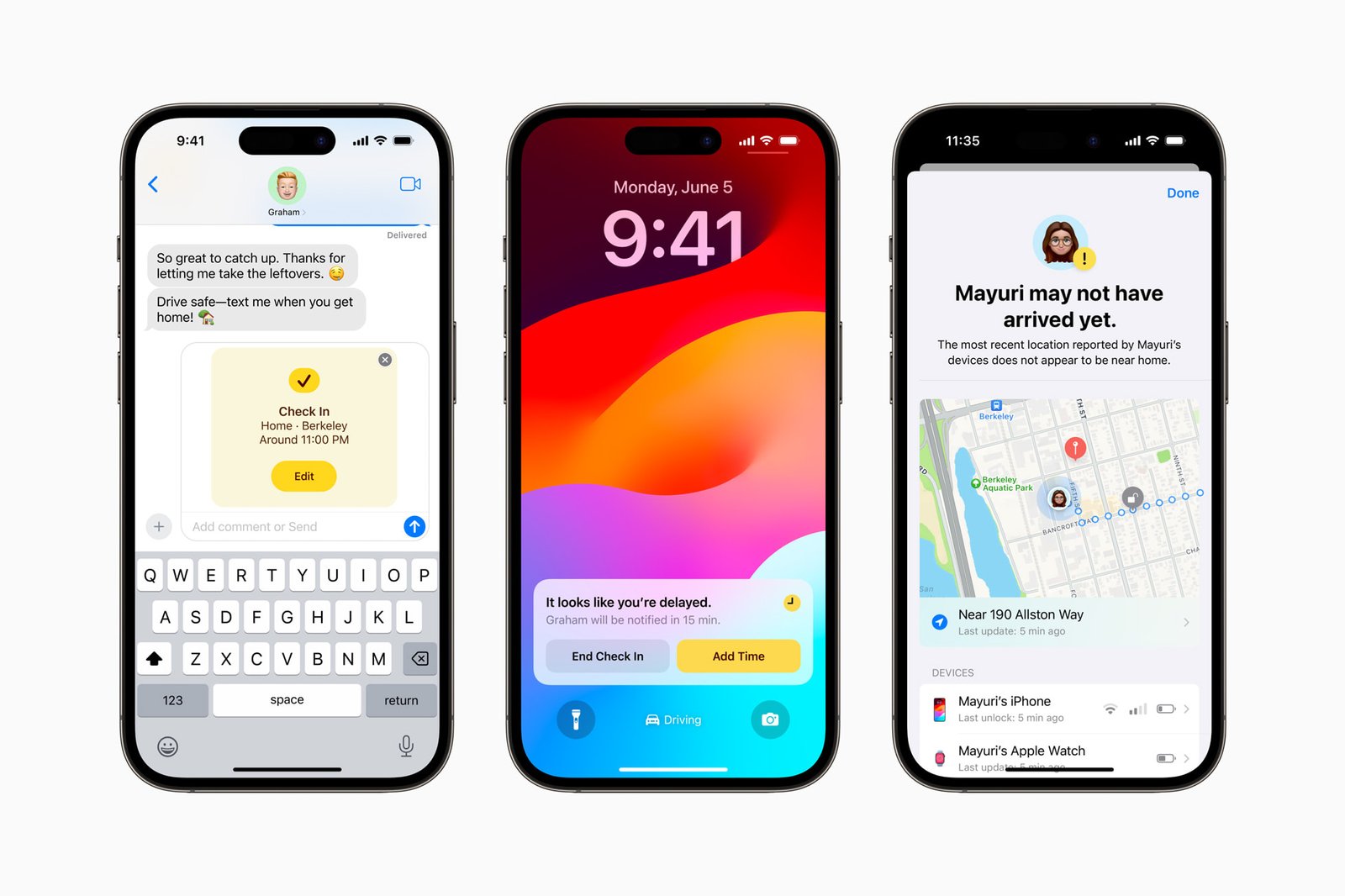 iOS 17 brings significant updates to Messages, offering users an enhanced and immersive communication experience. Here are the key features:
1. New Stickers Experience: Messages introduces an all-new stickers experience, including fresh emoji stickers and the ability to create Live Stickers by extracting subjects from photos. Users can add effects to these Live Stickers, bringing them to life. A new drawer in the keyboard conveniently consolidates all stickers, making them easily accessible throughout iOS.
2. Streamlined Look and Functionality: Messages receives a sleeker look with an expandable menu that can be accessed with a simple tap, showcasing iMessage apps. Search functionality becomes more powerful and precise with search filters, enabling users to start a search and add filters to narrow down results. A catch-up arrow indicates the last viewed message in a conversation, and replying inline is as easy as swiping on a text bubble. Real-time location updates within the conversation are available when users share their location, and audio messages are automatically transcribed for convenient reading or listening later.
3. Check In Feature: Messages introduces Check In, an essential feature for notifying family or friends when users reach their destination safely. When a user initiates a Check In, the selected contact is promptly notified upon the user's arrival. In case there is no progress towards the destination, relevant information such as the device's location, battery level, and cell service status is temporarily shared with the contact. All shared information is end-to-end encrypted, ensuring privacy and security.
With these updates, Messages in iOS 17 offers users a fresh and dynamic messaging experience. From improved sticker capabilities to streamlined functionality and the introduction of the Check In feature, Messages becomes more engaging, efficient, and secure for seamless communication.
Easier Sharing with AirDrop and NameDrop
iOS 17 introduces a new feature called NameDrop, which simplifies sharing content within messaging apps. With NameDrop, users can easily mention others and share content directly from the conversation without needing to switch between apps. This feature streamlines the sharing process and enables users to quickly refer to and include others in their conversations, enhancing collaboration and communication.
StandBy Displays Glanceable Information While iPhone Is Charging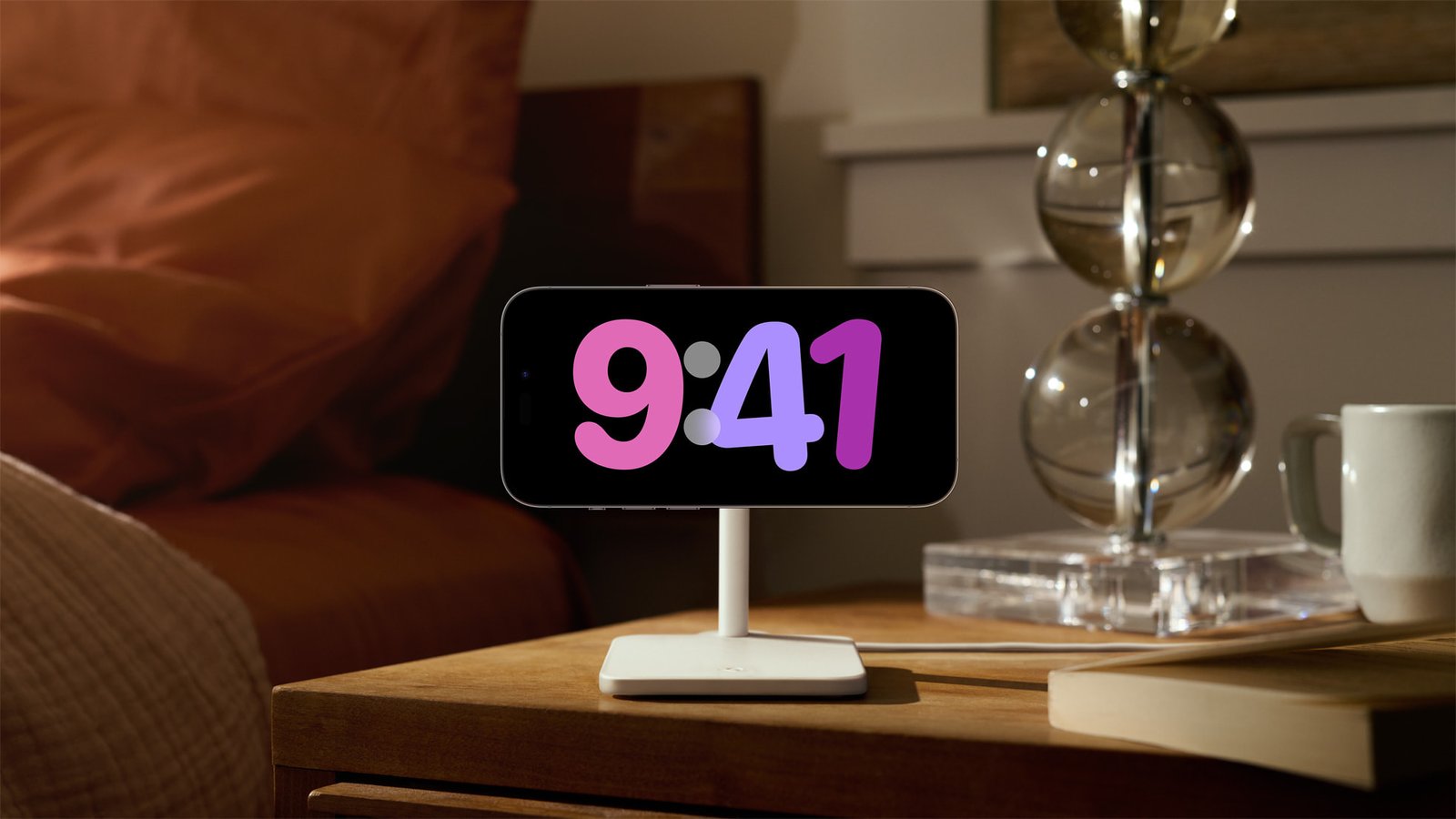 StandBy allows users to personalize their display with a variety of beautiful clock styles, favorite photos, or widgets, including Smart Stacks that intelligently surface relevant widgets based on the user's needs. It provides easy access to Live Activities, Siri, incoming calls, and larger notifications, making the iPhone even more useful when viewed from afar.
When using MagSafe for charging, StandBy remembers the user's preferred view, ensuring a seamless and personalized experience. Users can easily activate StandBy by tapping the screen, and on iPhone 14 Pro models with the Always-On display feature, StandBy is always available, providing instant access to glanceable information at any time.
With StandBy in iOS 17, users can enjoy a customized and informative display that enhances the functionality of their iPhone when it is placed on its side and being charged. It offers a convenient way to access important information, notifications, and widgets from a distance, adding further utility and personalization to the iPhone experience.
HOW TO INSTALL IOS 17 BETA ON IPHONE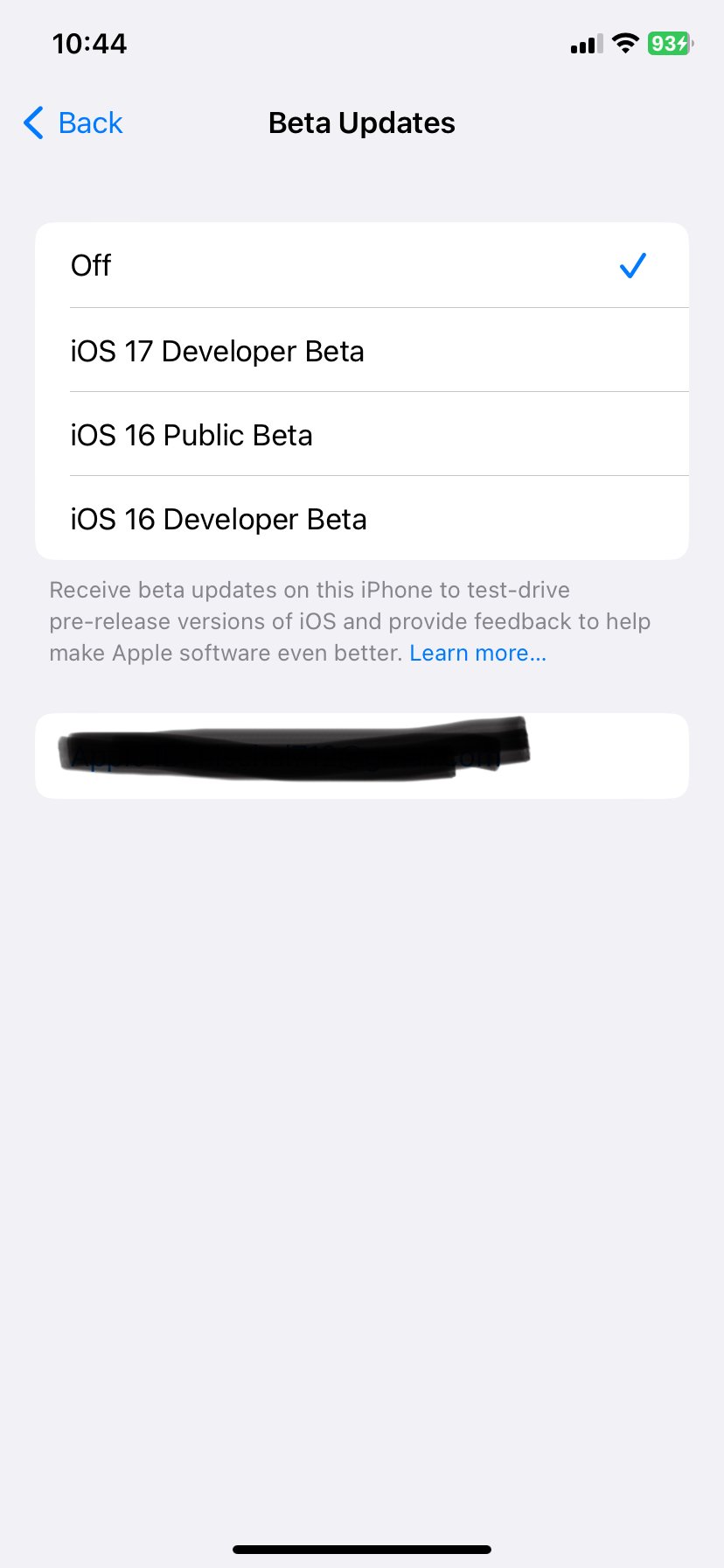 Check device compatibility: Before attempting to install a new version of iOS, verify that your iPhone model is compatible with iOS 17. Apple typically provides a list of supported devices for each iOS release.
Backup your iPhone: It's crucial to back up your iPhone's data before installing any major software updates. You can use iCloud or iTunes/Finder to create a backup of your device's data, including apps, settings, and personal files.
Connect to Wi-Fi: Ensure that your iPhone is connected to a stable Wi-Fi network. It's recommended to download and install iOS updates over Wi-Fi to avoid excessive data usage.
Software Update: Open the "Settings" app on your iPhone, go to "General," and then tap on "Software Update." Tap Beta Updates – Select iOS 17 Developer Beta from the listed option.
Download and install: If an iOS 17 update is shown, tap on "Download and Install" to initiate the download. Make sure your iPhone has sufficient battery life or is connected to a power source during the installation process. Follow the on-screen instructions to complete the installation.
Note: "We may receive a commission when you purchase products mentioned in this website."